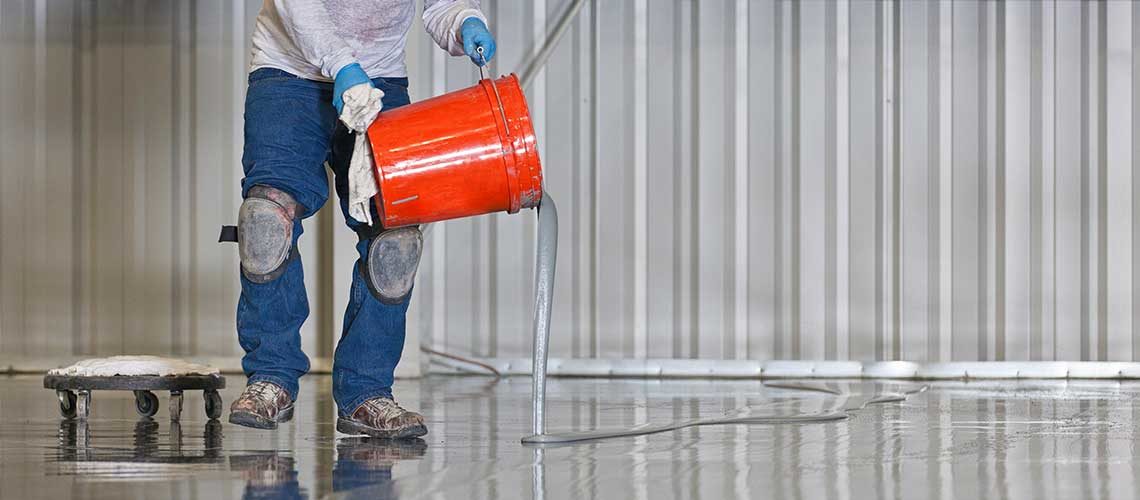 Being a contractor today is tougher than ever working in this industry. Between material delays due to the pandemic, impatient customers, and beyond it's even more important to increase your bottom line for the work that you're doing. Read the post by Mike Lenk, Thermal-Chem's VP of Sales to learn more about boosting your bottom line!   Read the post on Coatings Pro Magazine »
We are living in a "new world." Being a contractor today is as tough as any time that I can remember in my 30 years of working in this industry. Not only are you dealing with material delays but also a pandemic, impatient customers, and beyond. This makes it even more important, now than ever before, to increase your bottom line for the work that you're doing.
One way that you can help bolster your bottom line is to look at some of the components of your current estimating strategy and make sure that you are achieving the profit margin you have targeted.
I've worked with contractors on a weekly, sometimes daily, basis reviewing their estimating procedures, and I've assembled some common errors. Learn from these four mistakes before you make them yourself!
1. Don't Forget to Add Fixed Costs
When estimating an hourly labor rate, make sure that you add mark-ups that include your fixed costs. These are the items that you have to pay regardless if you do $1 or $1-million dollars in revenue, such as rent, utilities, and staff payroll for office personnel.
Additionally, you need to capture labor rate mark-ups for your field personnel, such as the Federal Unemployment Tax Act (FUTA), the State Unemployment Tax Act (SUTA), and the Federal Insurance Contributions Act (FICA), in your estimating. You have to pay these, so they have to be accounted for in your estimated labor rates.
I recommend for estimating purposes that you classify your workforce into three categories:
1. Owners/foreman/project managers;
2. General field labor-crew members that have become self-sufficient;
3. Newer crew members or staff with less than, say, 6 months with your company.
Each of these classifications will carry a different rate when estimating. For example, it is not uncommon to see category 1 going for $45–$60 per man hour, category 2 in the $30–$45 range, and category 3 in the $25–$35 range (these will vary, of course, based on many variables). Keep in mind: This rate is not what you're paying them; this is the rate that you should use to estimate their man hours.
2. Don't Forget to Include Supplier Costs
Include the costs that are sometimes easily overlooked, such as freight costs, pallet charges, and estimating for the kit size that your supplier sends the material in. For example, if your estimate shows you will need 21 gallons (79.5 L) of material, but your supplier sells in 5- or 15-gallon kits (18.9 or 56.8 L), you will be responsible for the entire material cost. If your bid only picks up what you estimate you will use and then you go over that, you'll be paying from your project's bottom line. As for freight costs, have you seen these lately? You have to pay these, so make sure that they are passed through to the bid.
3. Don't Buy in Small Quantities
Buy in bulk for disposable items such as roller covers, mix buckets, tapes, and chip brushes. These items will typically be used on one project and then disposed of. Purchasing these from a retail outlet (e.g., Lowes, Home Depot, etc.) versus buying in bulk from a flooring supply house will cost you between 10 and 20 percent annually. Most contractors aren't large enough to have the benefits of a purchasing agent, so do yourself a favor and spend a few hours doing some research in this area. It will be a great R.O.I.
4. Don't Copy and Paste
Lastly, take the time to job cost every project every time. The only way you can become a sniper in contracting is to learn from your bids. There are inexpensive bid software packages that make it very easy to compare what you estimated in labor, materials, equipment, and estimated profit percentages to what your team actually achieved. Use them, but don't just use the same job cost for every job.
Be a Great Contractor
In conclusion, my experience has showed me that the difference between good contractors and great contractors is attention to details. Good luck and good estimating!
About the Author:
Michael Lenk is the vice president of sales at Thermal-Chem, where he is responsible for leading the sales team in promoting Thermal-Chem's complete line of concrete repair and coatings products. According to the company, he has trained countless contractors on best practices and continues to consult as they grow. With more than 30 years' experience as an industrial flooring contractor, a consultant to contractors, and coatings manufacturer sales executive, Lenk will continue to provide contractors with product and technical consultation. For more information, contact: Thermal-Chem, (800) 635-3773, www.thermalchem.com.